One of the major factors in the list of importance for families is school district zones. From first grade to high school, parents want their kids in the best schools possible.
But how can I find a home for sale in a specific school zone when I'm not from the area?
Let me show you.
Always use a licensed real estate agent when buying or selling a home. We get a thorough education in real estate school, take a comprehensive national and state exam, and our sole focus is YOU.
One of the benefits of being a licensed real estate agent is access to the Multiple Listing Service or MLS.
The MLS is an advanced piece of real estate software. REALTORS® have invested MILLIONS of dollars to create this technology over the years. (1)
One of the biggest benefits to the MLS software technology is how efficient it makes the house finding aspect of being a real estate agent.
Access to this software comes at a price for each agent but that is not the point of this article. The point is to share how we, as licensed agents, use the MLS to find you the perfect home.
The Art of the Search
Sometimes a buyer does research and determines a particular feature that want in their home search. This research can be done in many areas of particular interest to the buyer.
This is a BIG HELP for agents when it comes to finding a perfect home. Here are some common important items to buyers:
outdoor activities: public swimming pools, ski resorts, golf courses, shopping centers, etc.
educational institutions: colleges, universities, public / private / charter schools, etc.
large employers: Clif bar, Chiobani, Glanbia, hospitals, universities, etc.
a locale such as rural versus urban or suburban; dense vs sparse populations
proximity to major attractions like Yellowstone National Park, Disneyland, or the Grand Canyon.
When a search is set up within MLS, an agent finds many different options to help single out exactly what they are looking for in a property.
Sometimes it is a specific keyword that can be added as such…a keyword. Other times it is a specified search term already designated, such as Assigned Grade School.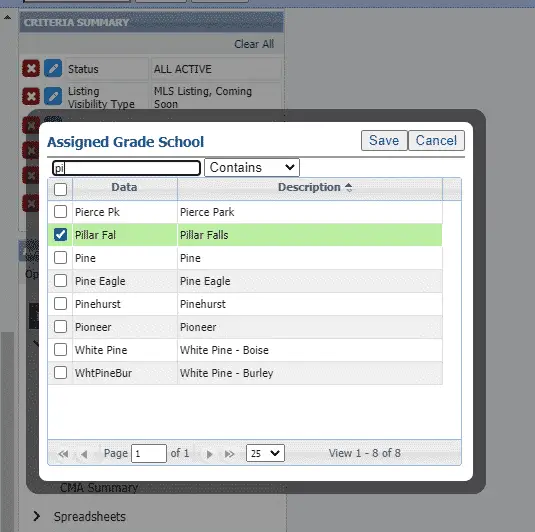 One of the options is choosing the desired School District, Assigned Grade School, Jr High, and/or Sr High. In the example above, a buyer was only interested in the Pillar Falls grade school.
Pillar Falls Grade School is known for high scores on important baseline tests.
An agent can place their cursor inside the free text box and begin typing the desired search result. As above, I began to type "pillar" and the related suggestions began appearing below the text box.
Pillar Falls can be clicked and Saved. All listing searches with this selection will now only return a result with a home located within the Pillar Falls Grade School zone.
Other applications can utilize a Polygonal Map Tool which can be used to manually draw borders.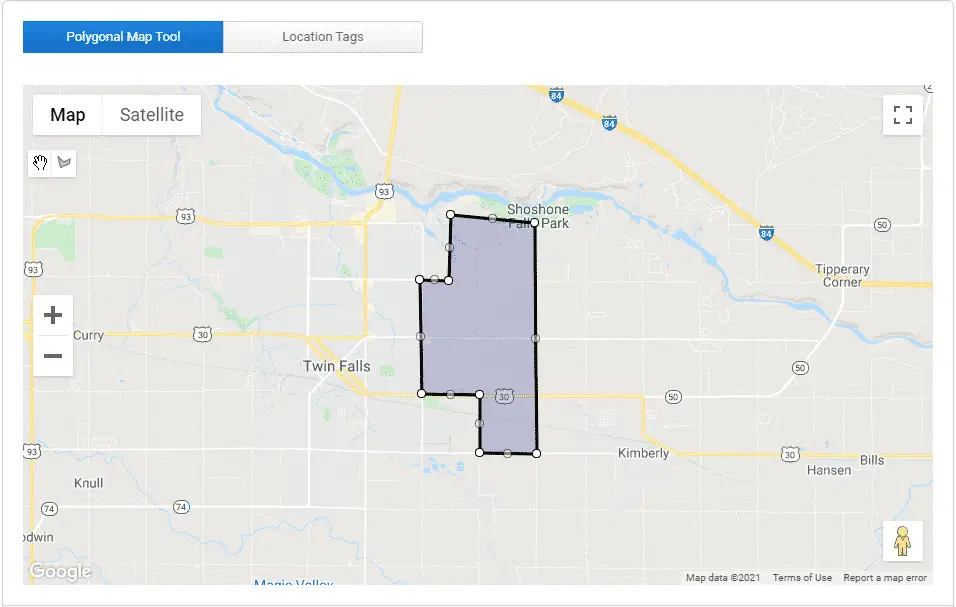 The above images is an example of a manually plotted Pillar Falls Grade School zone using the polygonal mapping tool.
It is very accurate but also very time-consuming. I'll cover more about this in the e-Alert article.
Save the Specific Search
I like to create these specific searches for each client. First thing in the morning, after a cup of caffeine, I run each Saved Search in my file to see if anything new has popped up on the market.
This is just one way to see what is new on the market for each client. Other ways include establishing e-alerts, watching Hot Lists, and other methods.
Part of distinguishing ourselves in the Jeremy Orton Group is doing all we can to find our clients the ideal home to purchase or maximize the return on a home sale.
When you choose a REALTOR® from the Jeremy Orton Group, you are getting access to a combined real estate knowledge of the Magic Valley equivalent to 42 years.
We meet every weekday morning to discuss real estate and how we can better serve our community and our clients.
Next Article: Setting up the Client e-Alert
References:
(1) https://www.nar.realtor/nar-doj-settlement/multiple-listing-service-mls-what-is-it